Moroccan Inspired Baby Shower Party
We here at Wife of the Party live for making dreams come true and creating memories that last a lifetime. While we are most often behind the scenes making magic happen, once in awhile we do put our walkie talkies down and relax. Sometimes ;) This month some of our amazing vendors and friends gathered to throw our own Loriann the most beautiful Moroccan inspired baby shower you have ever seen. It was a day filled with laughter, fun, henna tattoos, delectable food, thousands of colorful florals, and a time for our mommy-to-be to relax and enjoy being pampered.
The shower was held in Los Angeles at The District by Hannah An. The District is an elegant Vietnamese restaurant inspired by Colonial Vietnam with a California vibe. Hannah is the eldest of five girls, all of whom are part of the House of An restaurant dynasty. Her mother owns the famous Crustacean restaurant as well as AnQui and Tiato.
The District's dark wood, high ceilings, shimmering chandeliers, rich hues, and front doors crafted from pieces from Vietnam over 100 years old made the guests feel as though they were being transported to another time and place.
Loriann wanted something unique, non-traditional, non-cutesy, and memorable. Shawna Yamamoto and her team delivered that and more. They took her idea for a Moroccan inspired baby shower and ran with it and the result was an elegant, exotic, and over the top soiree befitting our stunning mommy-to-be.
Guests were greeted by a giant floral peacock and golden lanterns to light the way. Once inside guests were invited to take their seats on multicolored plush ottomans from Edge Decor & Design.
Breathtaking streamers of hand strung flowers filled the room.
Shawna Yamamoto Event Design created these lush floral centerpieces in bright rich hues...like crown jewels.
Each place setting had its own custom embellished napkin that sat atop gold chargers.
The talented makeup artist, Gaby Torell, wanted Loriann to feel extra glam on her special day with a stunning mommy-to-be makeover.
Loriann's friend, the multi-talented and artistic, Kelly Jurado, designed and created this beautiful and intricate Henna tattoo on her belly. The art of Mehndi (aka Henna) has been practiced for centuries in India, Africa, and the Middle East. Most frequently found at traditional Indian weddings, Henna tattoos are thought to bestow blessings and good luck. Kelly's art is sure to bring many blessings and good fortune upon, Lucca Bleu.
The look on Loriann's face says it all...she was blown away!
Merengue Bakery created this unbelievable 3-tiered cake with gold piping reminiscent of Henna tattoos.
This rich teal backdrop adorned with strings of flowers and a golden elephant was the perfect backdrop for the gorgeous cake.
Loriann and Herick's daughter, Frankie, shows off a lei made just for her.
The proud parents to be, Loriann and DJ Herick.
A very sweet moment captured between Loriann and Frankie, the soon-to-be big sister.
Is this not the most decadent bowl of ice cream you have ever seen?! Guests crafted their own gold coconut sundaes with speciality flavors like Lucuma, Pink Guava, Coconut, Hibiscus Sorbet, and Cashew Fruit Sorbet.
The most energetic dholi, Malinder Toorhay, entertained the party guests. She is the first female dhol player in the US! #girlpower
Guests left with darling chocolate elephants from Rosebud Chocolate and handmade bracelets in a variety of colors from Nicole Shahar of An Old Soul Jewelry.
Guests had so much fun in the photobooth with baby dolls for props.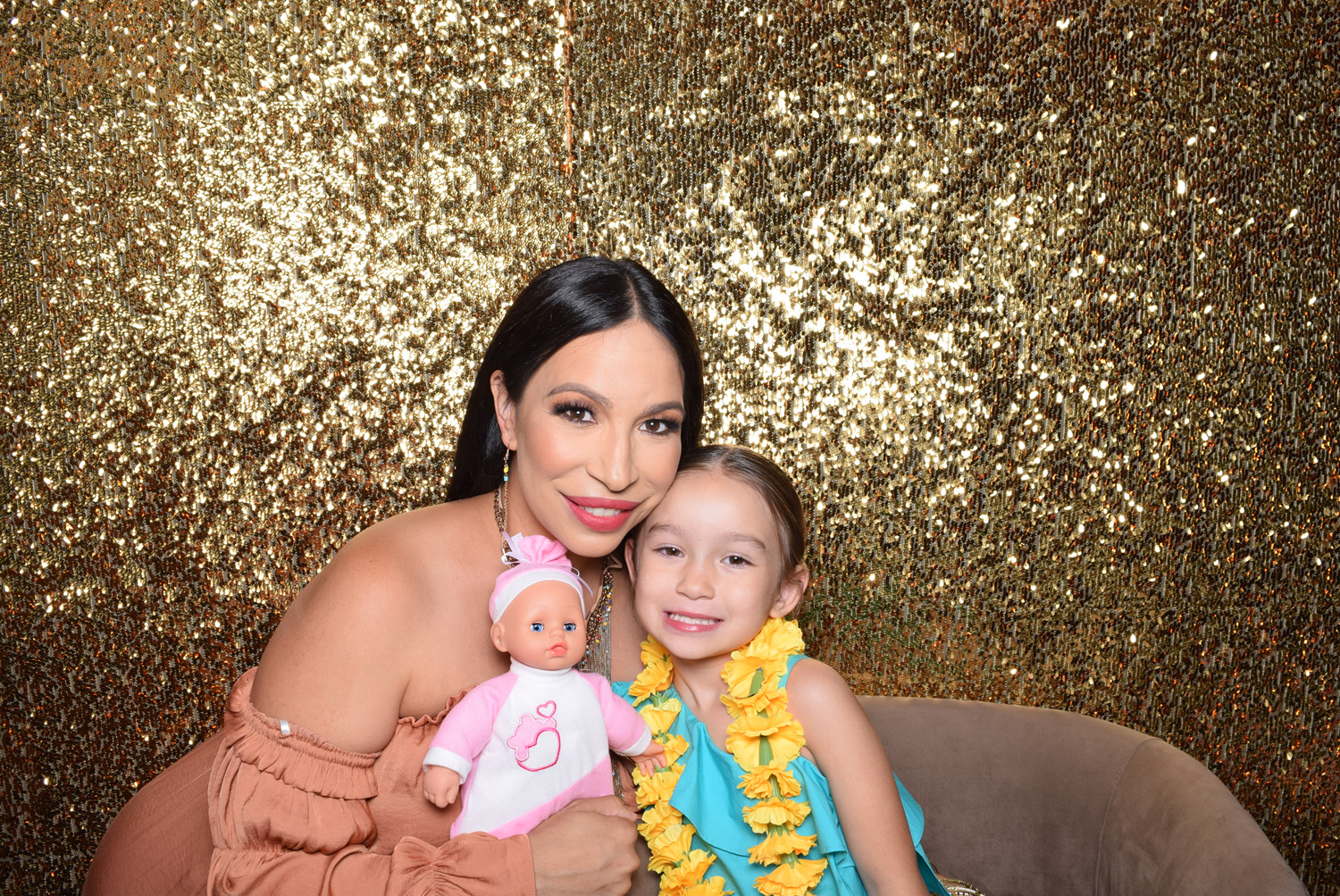 The Happen Booth designed custom graphics for the photobooth.
Soon-to-be big sister, Frankie, was presented with gifts, big sister books, a Wonder Woman backpack, and a special sash.
Dimple Gandhi designed beautiul Henna tattoos for shower guests.
One of the favorite activities of the afternoon was trying to figure out how big Loriann's belly was. You can see by the looks on their faces how much fun they had trying to guess.
Instead of hot potato they played "hot baby"! The whole room was laughing watching the baby doll getting tossed from one player to the next.
This is my personal favorite and one I think should be played at every baby shower from now on...Toss the Baby! Who says brides should have all the fun?! The one who catches the baby is next in line to have one!
Message from Loriann:
I'd like to thank EVERYONE that took the time out to celebrate me. As most people know our tagline is "we celebrate people" and I find so much joy going to work every day to do just that. It is rare that I celebrate myself because sometimes my idea of a celebration is quiet time with my family and a few extended hours of sleep on my special occasions. When it comes to babies, it's different. I suffered two miscarriages between Francesca and Lucca so there was no way we weren't going to celebrate and welcome our rainbow baby - and because of those that know me personally, work beside me professionally, and love me unconditionally (my husband) it was unforgettable. Thank you to each and every one of you - especially Crystal, Shawna (and SYED family), Devynn, Teresa, Edward, Mario, Herick, Gaby, Ricky, Cindy, Beth, Nikki, Kelly and Marthin.
For the best video recap compliments of Luv In Flying Colors, watch here:
Vendor List:
Photographer: EDLT Photography
Event planner: Wife of the Party
Design/Floral: Shawna Yamamoto Event Design
Venue: The District by Hannah An
Linens: Luxe Linen
Charger rentals: Classic Event & Tent Rentals
Furniture: EDGE Design and Decor
Audio/visual: Happen Los Angeles
Photo booth: The Happen Booth
Gold coconut sundaes: Helados Pops
Cake: Merengue Bakery
Chocolate favors: Rosebud Chocolates
Jewelry favors: An Old Soul Jewelry
Henna artistry: Dimple Gandhi
Dhol player: Malinder Tooray
Videographer: Luv In Flying Colors