Breathtaking Contemporary Jewel Toned Fall Posh Wedding
The wedding of Branden Hampton and Stephanie Perez was nothing short of magical. Every detail was planned to the minute with care and precision with the bride and the result was a breathtaking event their guests will not forget.
The festivities began at a location steeped in Los Angeles history. Completed in 1928, Greystone Mansion, also known as Doheny Manions, is a 55 room Tudor style former home situated on 16 acres of premium Southern California land. The architect, Wallace Neff, took much of his inspiration for Greystone Mansion from Petit Trianon in Paris. Petit Trianon was the place Marie Antoinette felt most at home, it was her escape from the constraints of palace life, it was her "happy place". It is also absolutely gorgeous. Mr. Neff and Edward "Ned" Doheny, Jr, the original owner, had good taste.
Greystone Mansion was privately owned until 1965 when the then owner declared he was going to subdivide the property and demolish the mansion. The City of Beverly Hills purchased it in 1965 and in 1971 it became a city park. In 1976 the mansion was added to the National Register of Historic Places and has been used in many movies and TV shows.
Stepping onto the grounds at Greystone you may feel you have been transported to one of those movies or the grounds of Versailles. There are lush gardens, a reflection pool, an historic courtyard, and room after beautiful room. Our bride and groom chose to say their vows in the formal garden complete with a classic and stately water fountain as their backdrop.
Let's begin with these gold etched invitations delivered in a velvet lined box, shall we? Are they not amazing? There is nothing subtle or understated about these stunning invitations or about Branden & Stephanie. Both have larger than life personalities and their wedding was a perfect reflection of them.
Stephanie chose a custom-made fitted gown bedecked with intricate beading.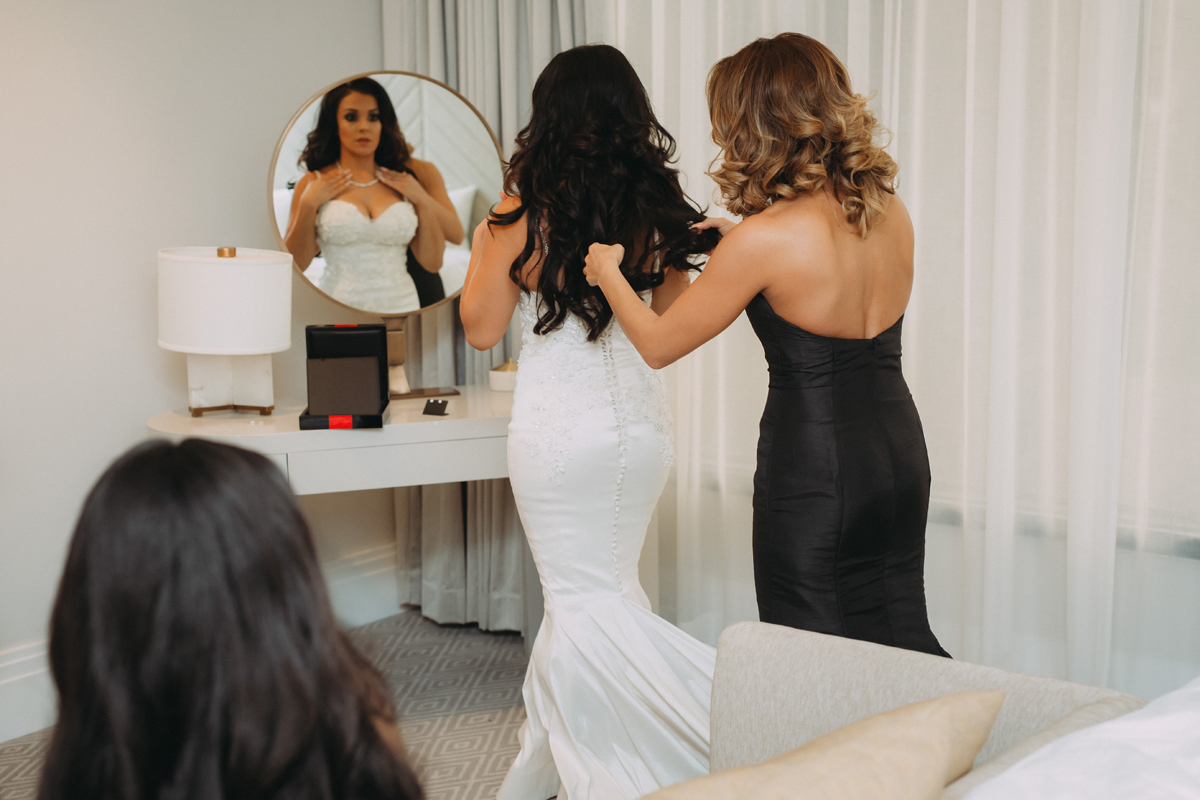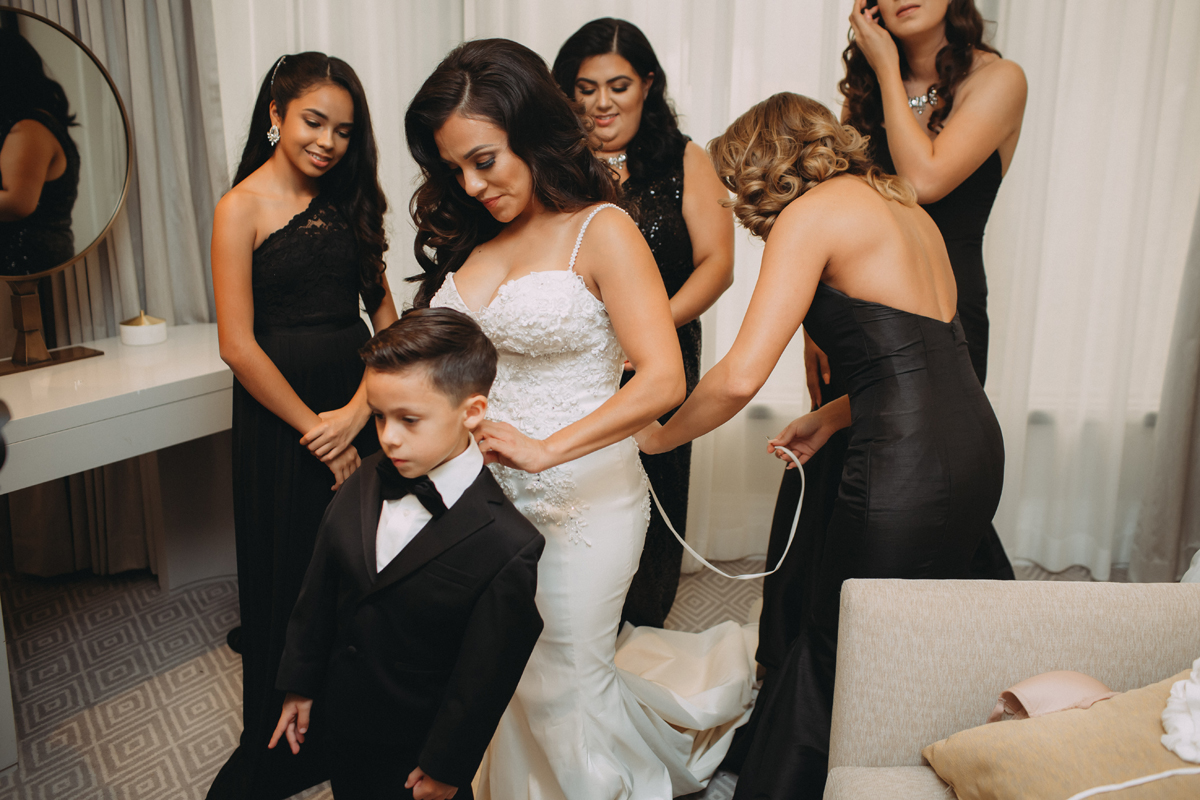 The gardens at Greystone Mansion really are spectacular. No detail was left out when designing this majestic place.
The ceremony took place here in the Formal Garden.
Branden and his son share a few moments before the ceremony begins.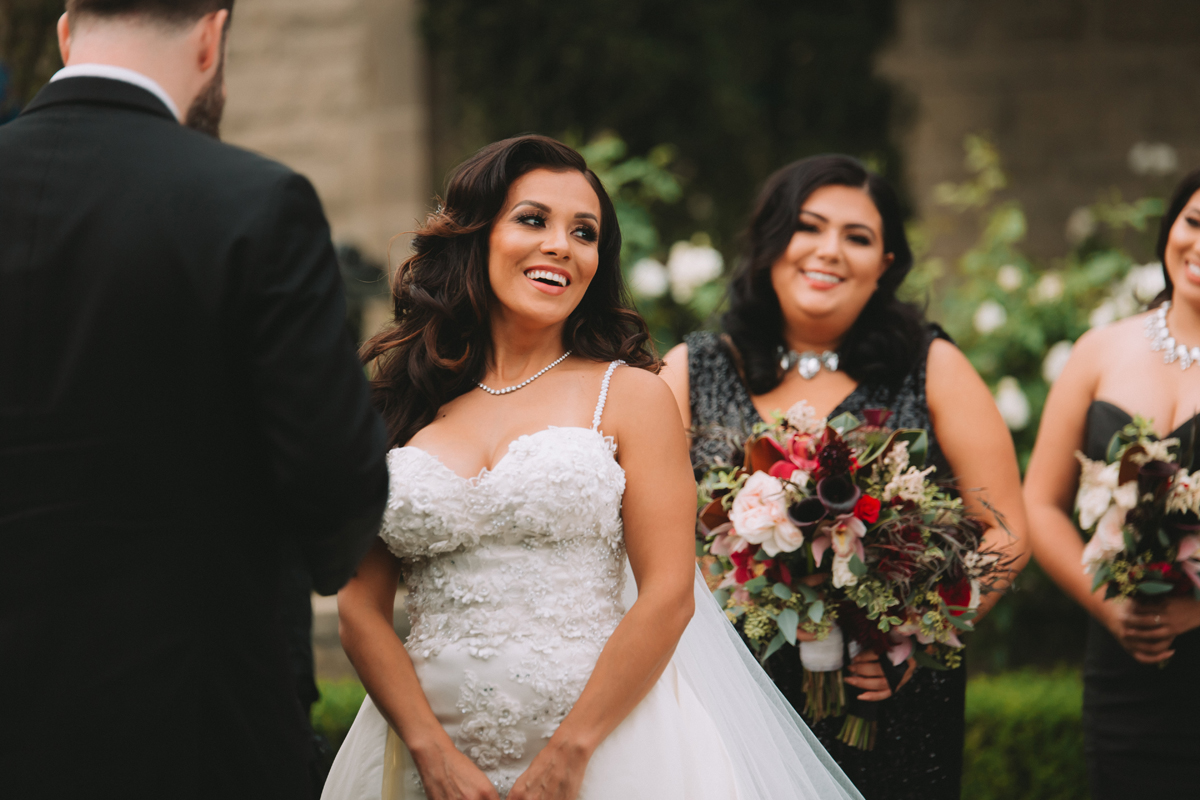 It was important to our bride and groom that unique and unexpected elements be woven into their big day. This giant marble menu and wall of escort card tiles was a statement piece for sure and not one their guests are likely to forget.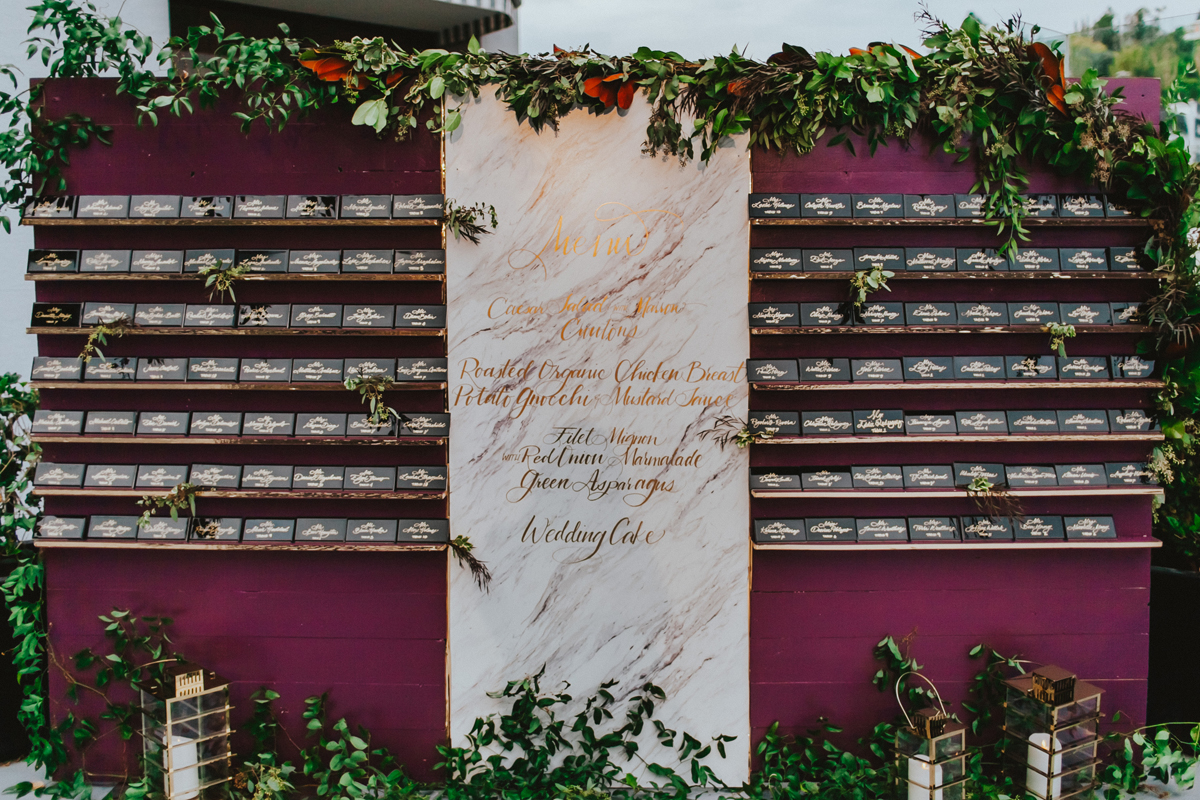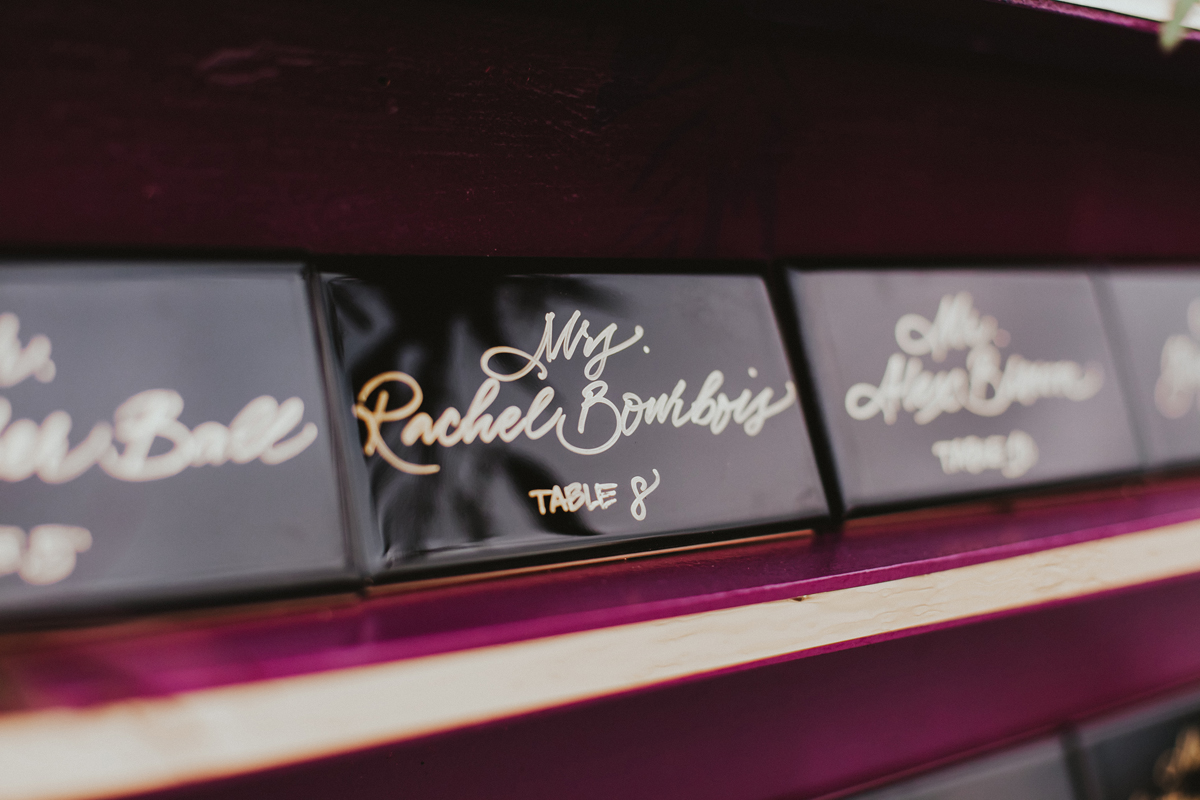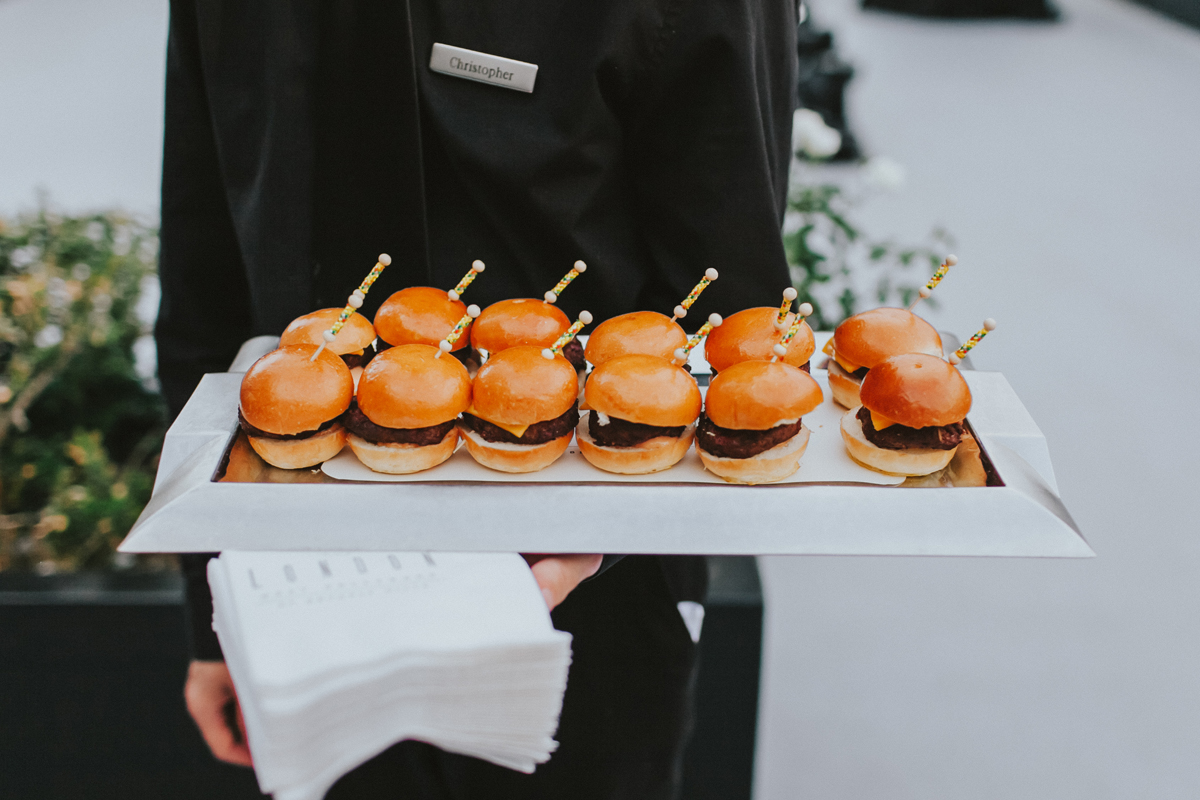 Guests dined on the rooftop of the London West Hollywood amid the stars and a little rain. October is a tricky month here in Los Angeles...it could be a sunny 90 degrees one day and a misty 62 degrees the next. Luckily Stephanie took the rain as a sign of good luck, grabbed an umbrella, and kept the party going.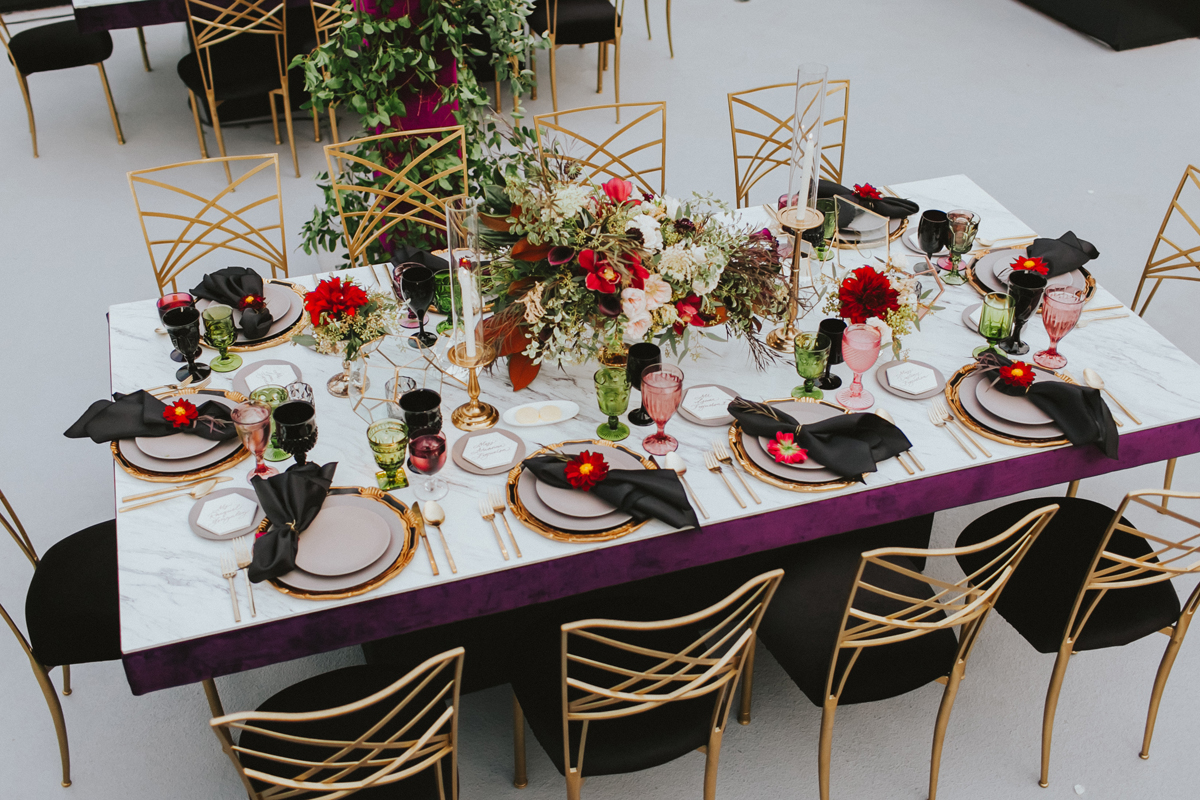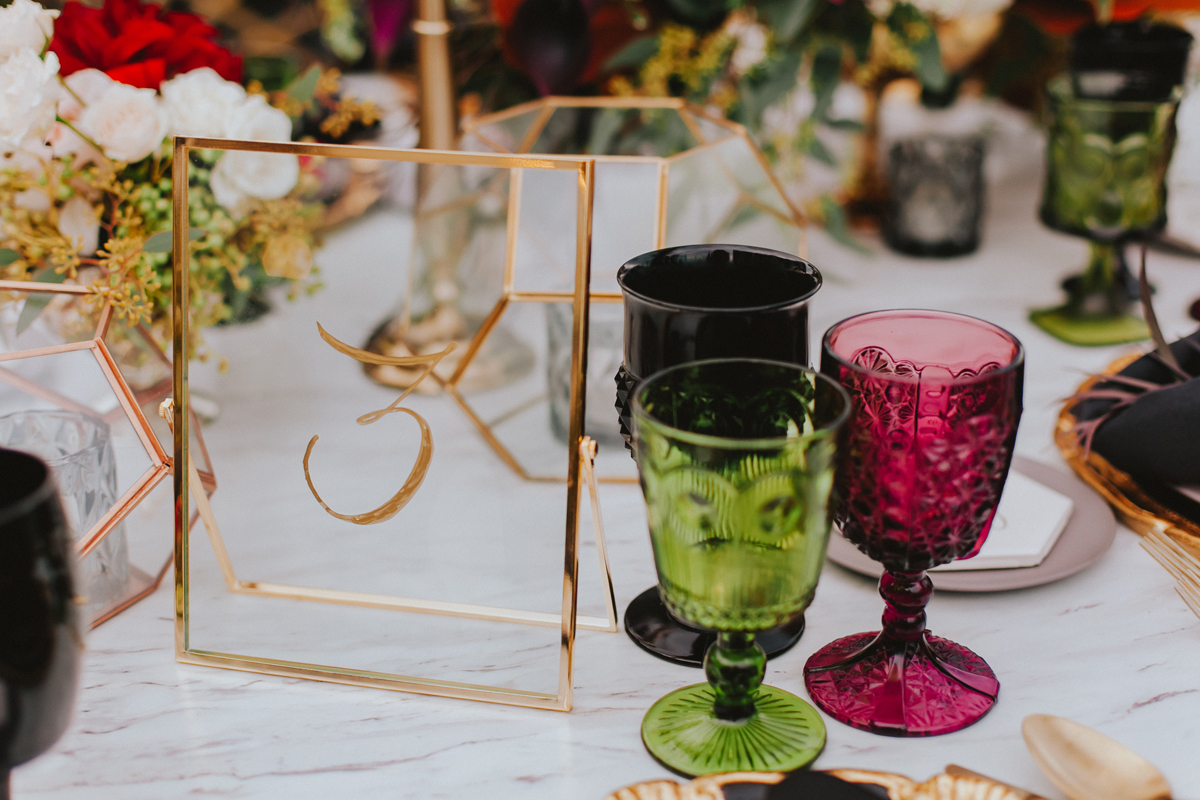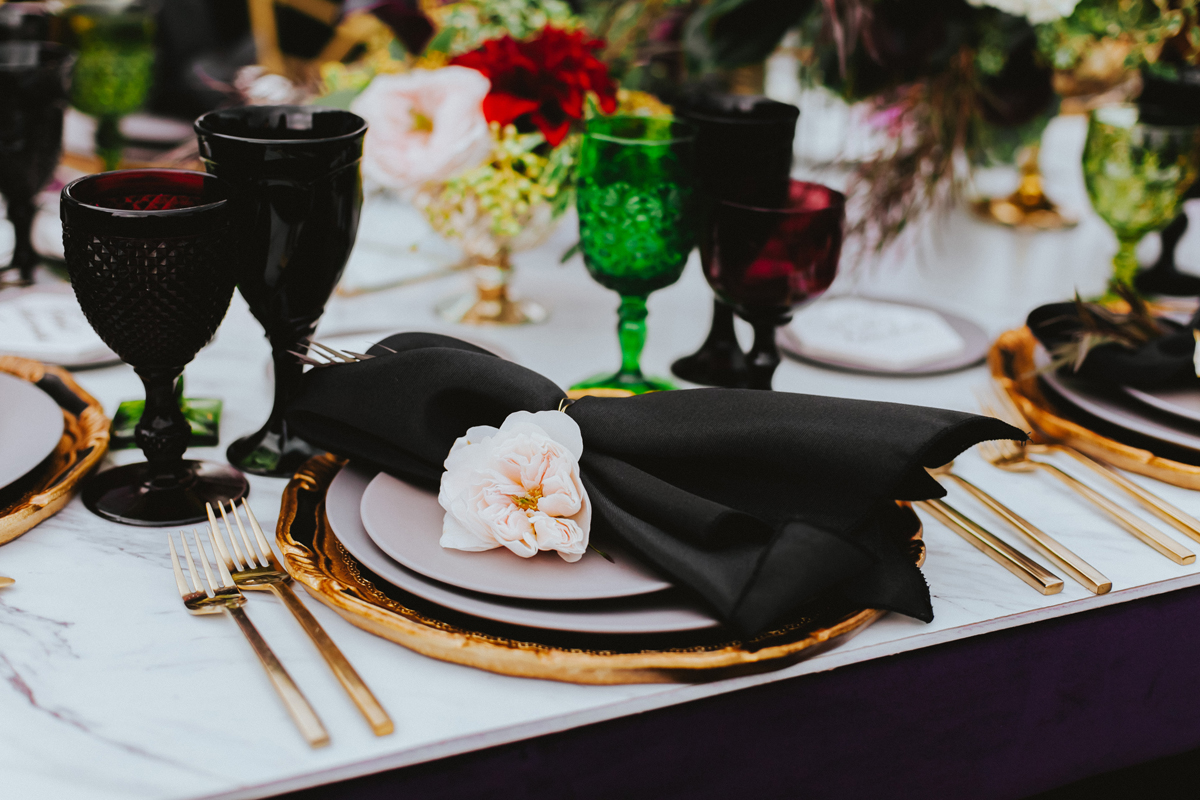 The view from atop the London West is pretty amazing. When the sun goes down the lights of the city cast a romantic glow that surrounds the whole space.
A cascade of streamers announce the entrance of the new Mr. & Mrs. Hampton.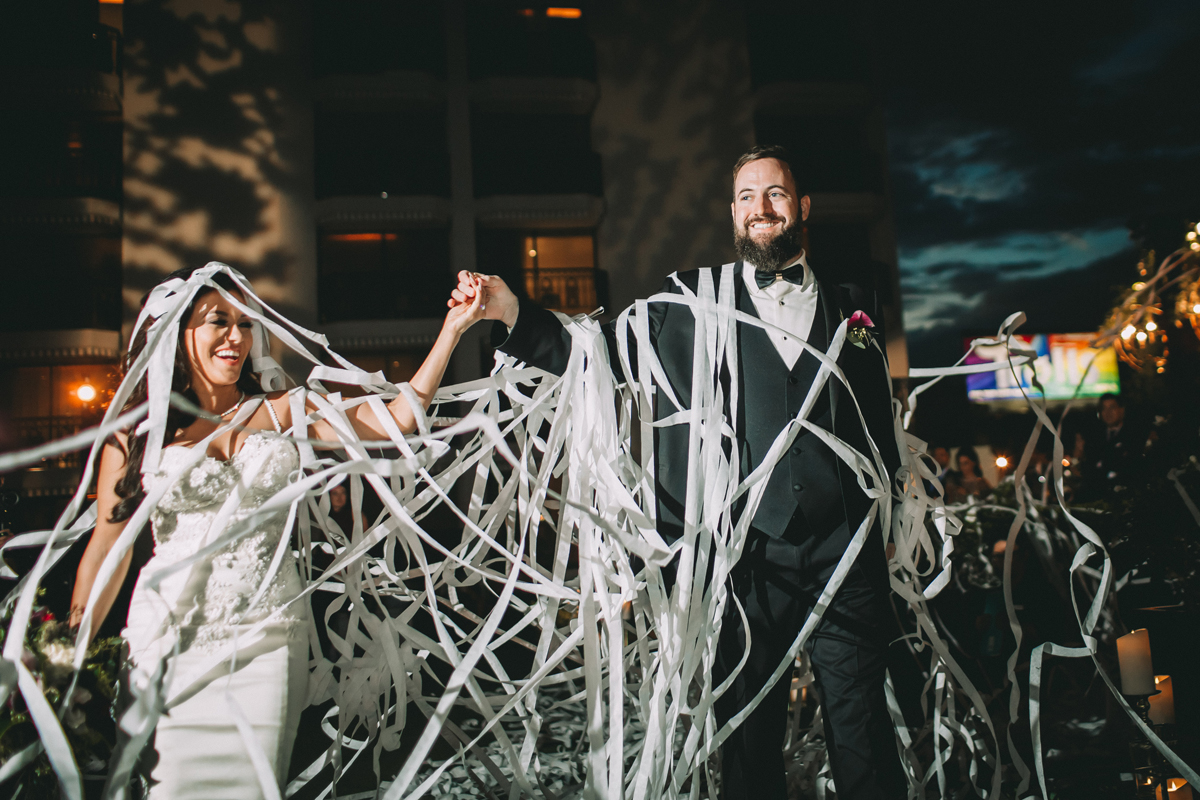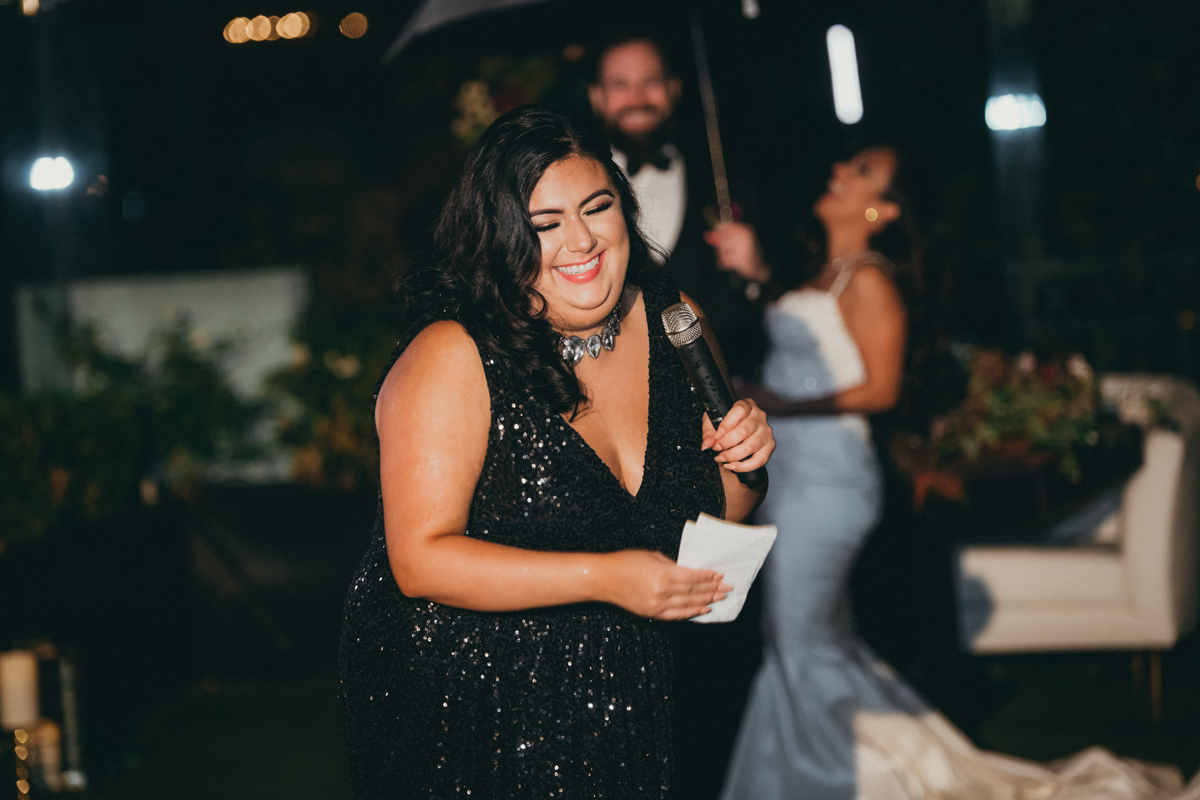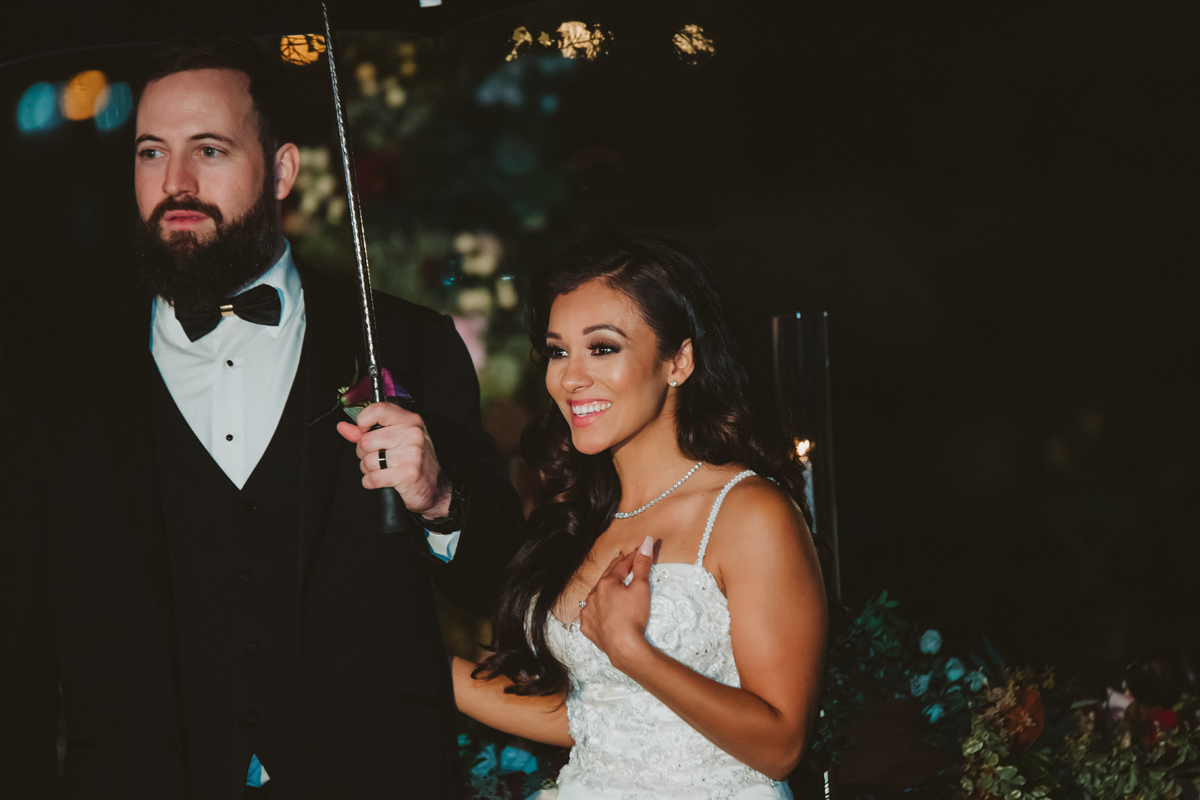 After dinner guests made their way down to the third location of the day...the glamorous Kensington Ballroom. Every area was meticulously planned out so that each area flowed seemlessly from one to the next.
Guests enjoyed mini chocolate covered apples, chocolate covered Oreos, and custom cookies decorated to look like marble. The cookies even had their last name, "Hampton", imprinted in them. No detail was left out.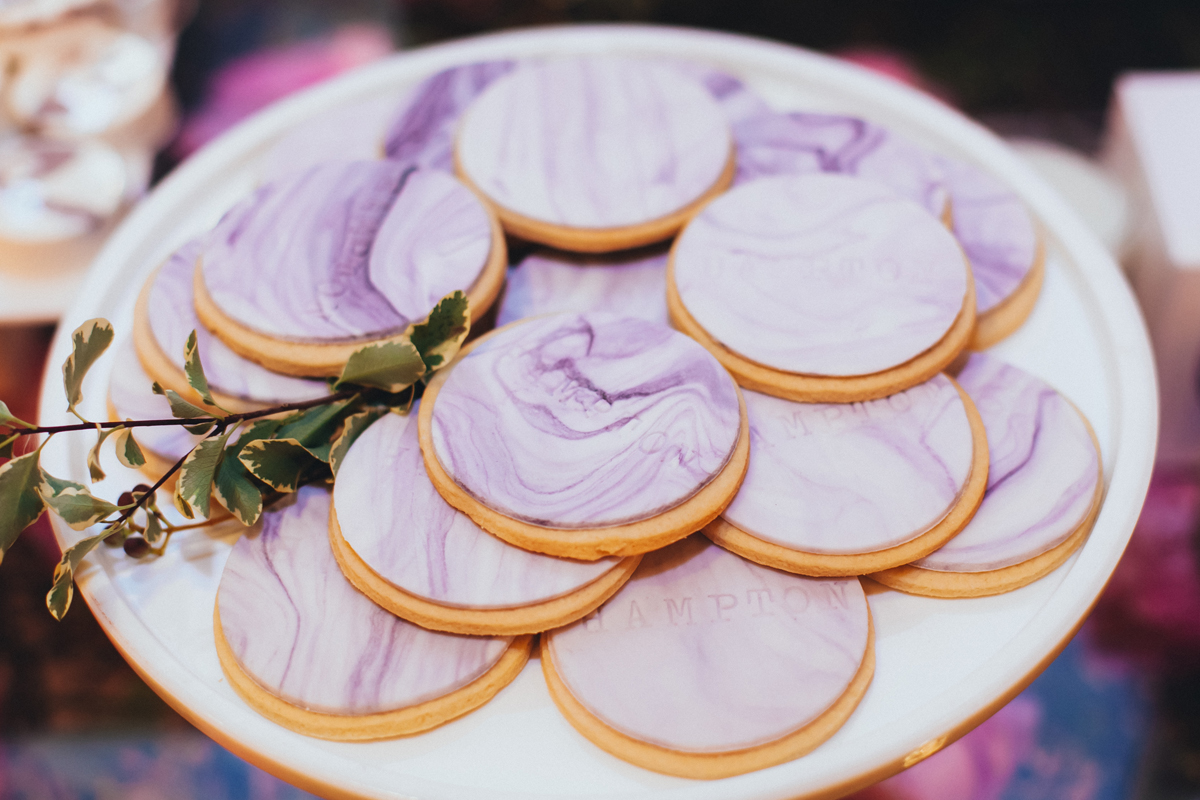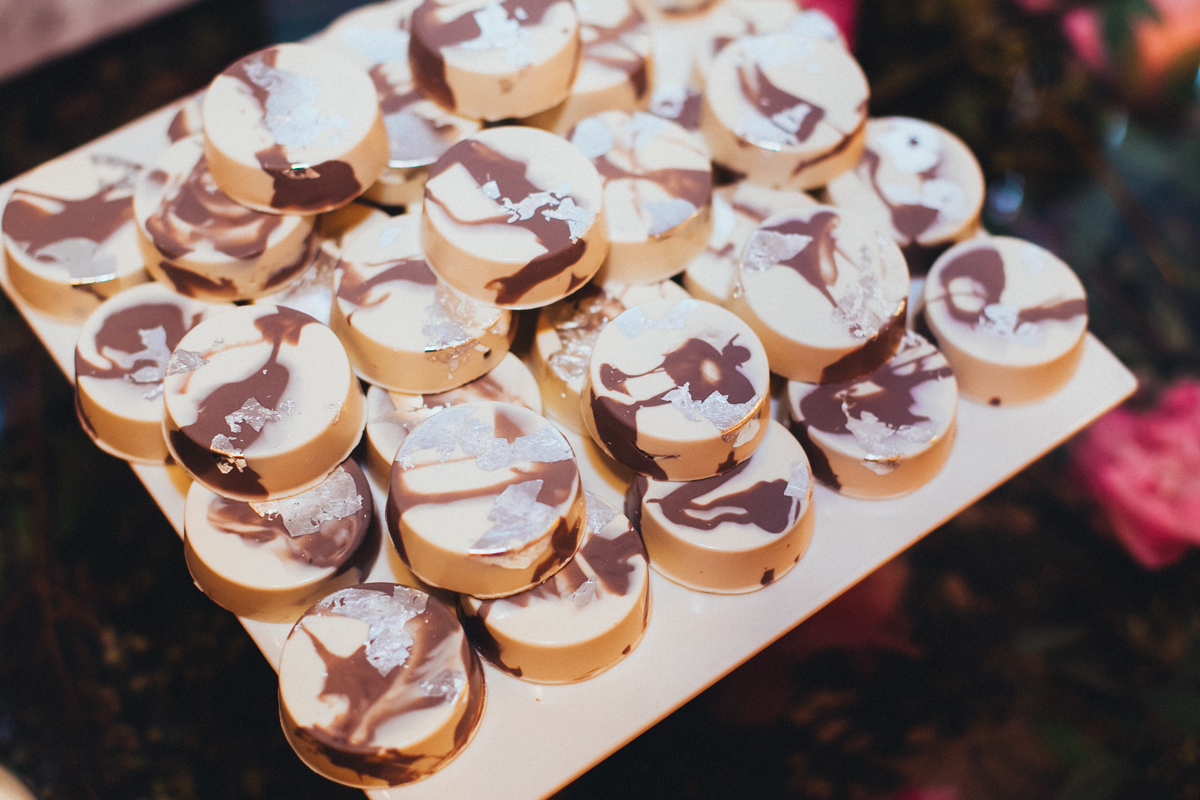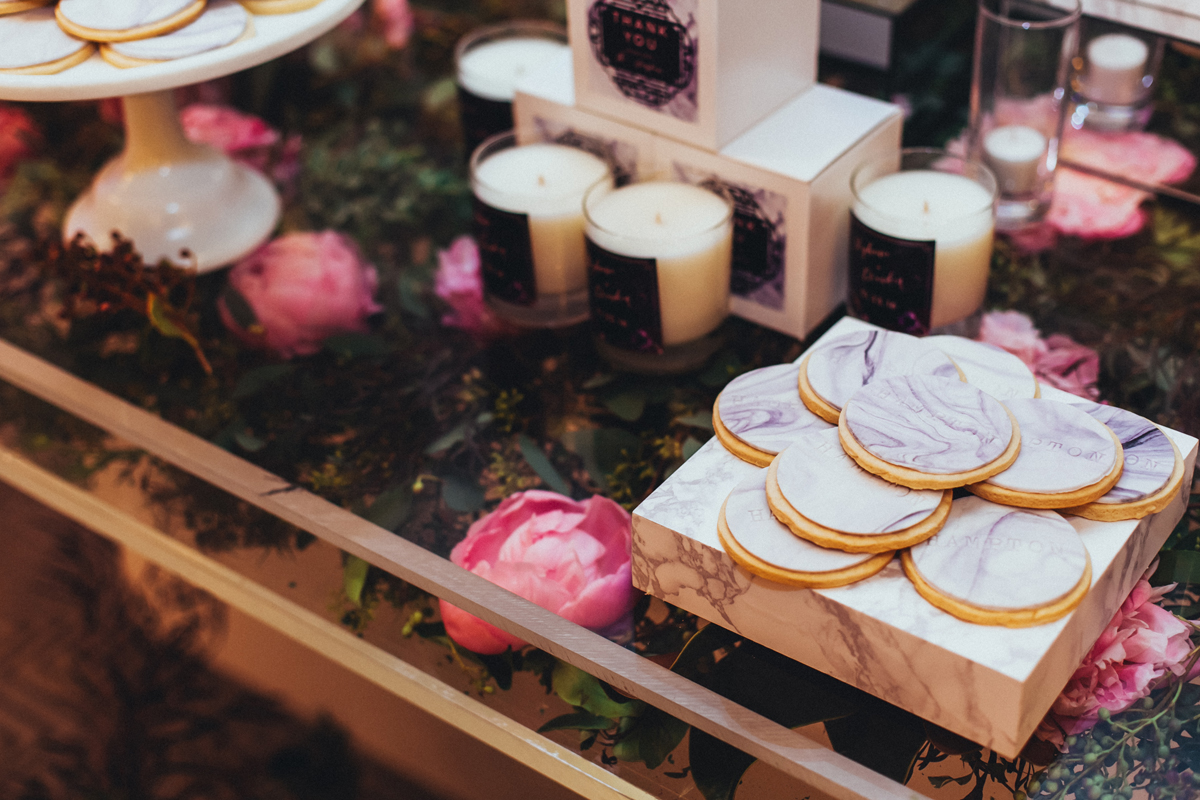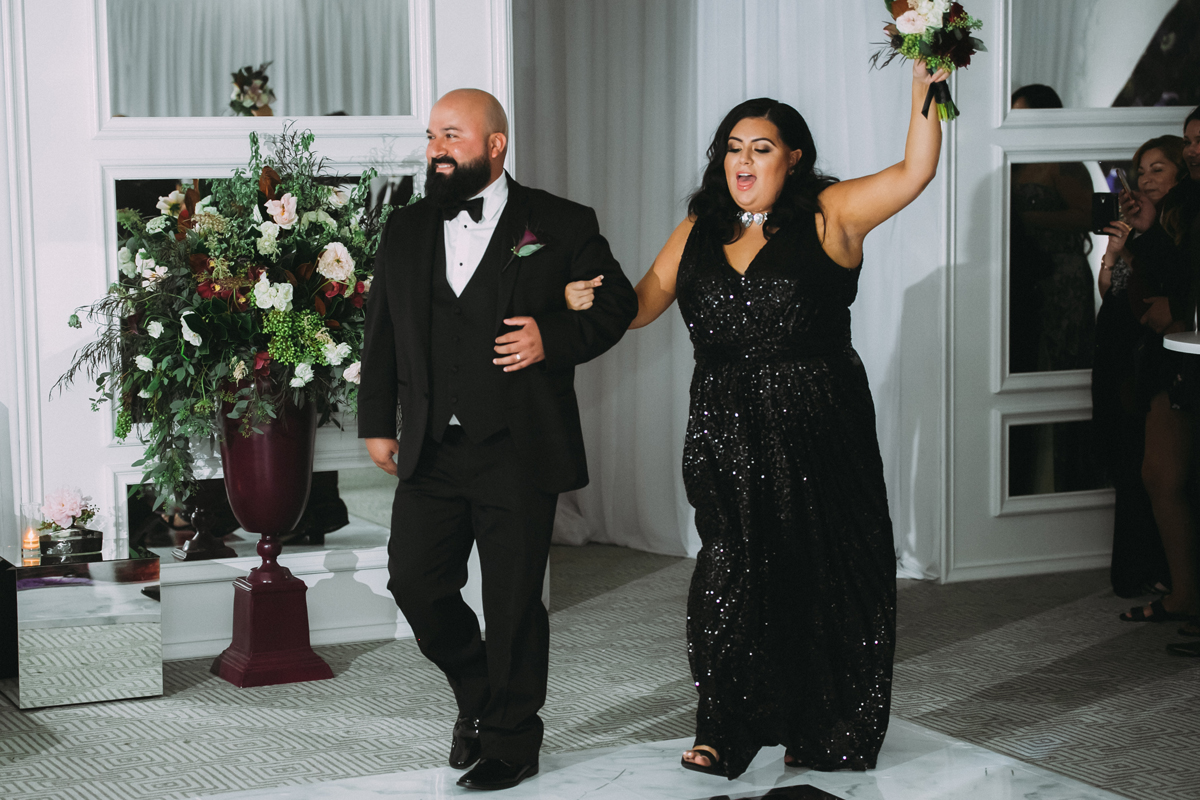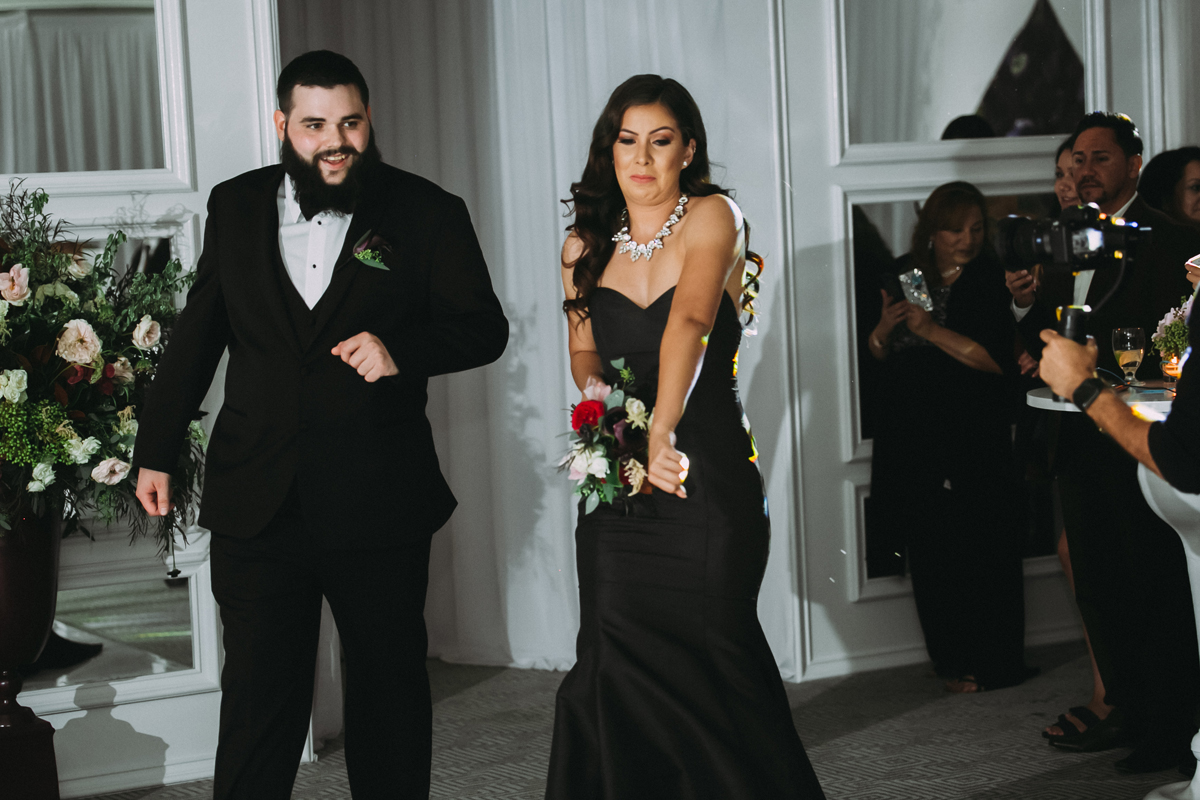 We think everyone should have an ethereal mist roll in for their first dance.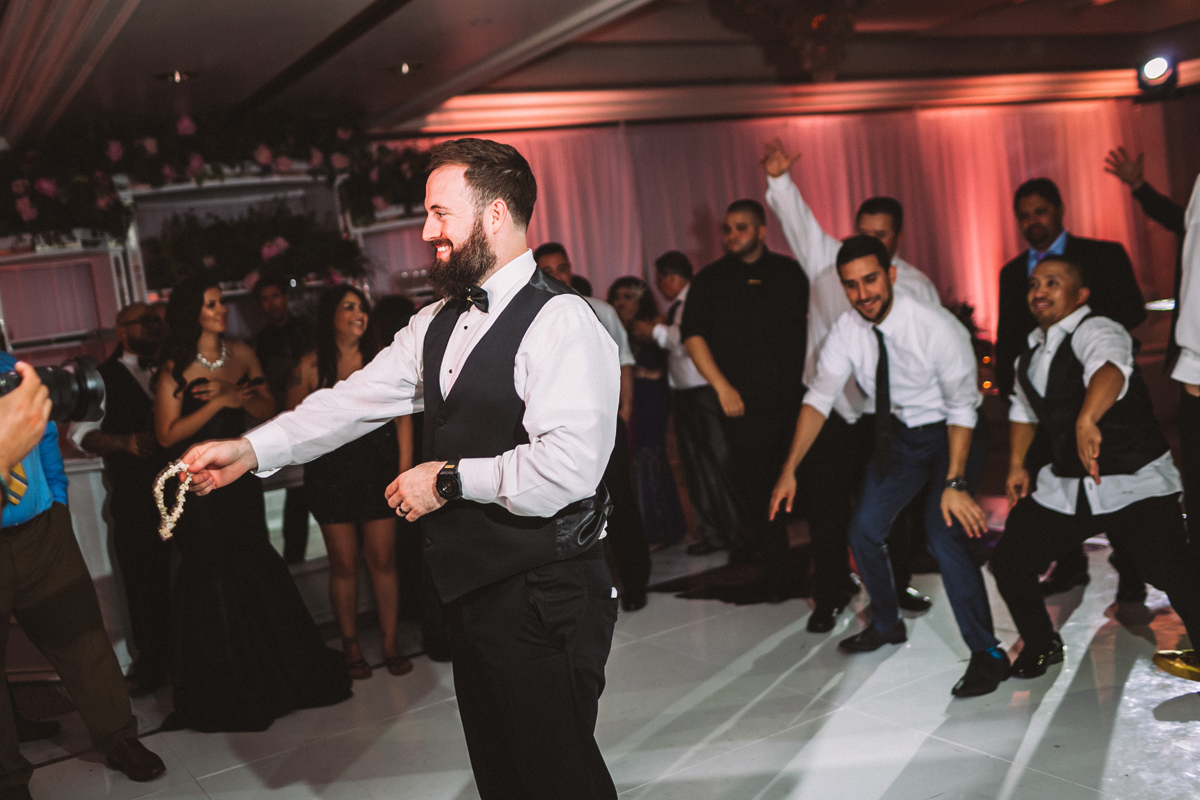 Stephanie showing her guests how it's done with DJ Herick.
A rare photo captured of our own Loriann and DJ Herick...how cute are they?!
This cake...right?! Nothing short of stunning. The Butter End created and designed this unforgettable 5 tiered marbled masterpiece complete with gold flakes. It tasted every bit as wonderful as it looked.
We are thrilled to say you can read their love story in print in the Fall/Winter issue of Inside Weddings!
From the bottom of our hearts, thank you Branden & Stephanie, for entrusting us to help make your wedding day dreams come true. Happy 1st Anniversary! We can all relive it in the beautifully executed video by Mario at Luv In Flying Colors:
Vendor Credit:
Planning and Coordination: The Wife of the Party
Ceremony Venue: Greystone Mansion
Officiant: Estevan
Cellist: Vardan
Reception Venue: The London West Hollywood
Photographer: Aesthetiica
Second Shooter: Tiffany Kyees
Florist: Shawna Yamamoto Event Design
Videographer: Luv in Flying Colors
Makeup & Hair: Done Up By Donna
DJ/Photobooth: Happen/The Happen Booth
Cake: The Butter End
Bartending: Lock & Key
Desserts: Maskipops by Adri
Desserts: Sugar Studio
Desserts: Auntie Applie
Candles: Chantry 1975
Dance Floor: HCD Dancefloors
Furniture Rentals: Edge Design & Decor
Rentals: Classic Party Rentals
Tabletop Rentals: Casa de Perrin
Caricaturist: Toon Upz
Additional video for Branden: Dabling Howard/Sean Gowdy/Colby Andette
Wedding dress: Michael Costello
Groom's Bow Tie: Michael Costello
Bride's shoes: Sergio Rossi
Invitations: Honeycrisp Designs